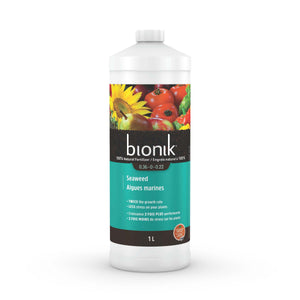 Seaweed fosters seed germination and plant rooting in all types of plants. Balanced and 100% natural, it is rich in minerals and other compounds.
Formulation: 0.36-0-0.22
Format: 250ML, 500ML, 1L & 4L
Perfect for...
For all types of plants and soils. Indoor or outdoor. Field Crops, greenhouses, and hydroponics. Fruit and Vegetables, Flowers and Lawn, Grains and Field Crops.
Characteristics:
Seaweed *

Directly from the sea to your vegetable patch!

20 nutrients.

10 vitamins.

5 species of microorganisms.

20 amino acids.