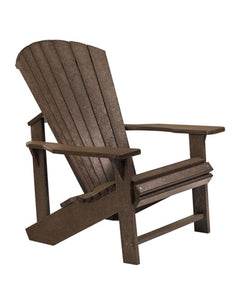 This chair has been ergonomically designed with you in mind. Our Adirondack sits deep with a contoured seat and back, for the comfort you would expect in an Adirondack Chair.
Can be used for residential or commercial use. Ergonomically designed. A large selection of fade resistant designer colors Heavy 7/8" gauge plastic lumber (1/2" used by competitors) All stainless steel hardware No painting, No slivers, No Rot.Completely waterproof
PRODUCT WARRANTY
C.R. Plastic Products Inc. warranties to the original purchaser for a period of a limited twentyfive (25) years of residential use and five (5) years for commercial use starting from the date of purchase. This warranty covers any defects in the manufacturing and workmanship of the furniture components.
DEPTH - 32" / 81cm
WIDTH - 31" / 79cm
HEIGHT - 41" / 104cm
SEAT HEIGHT - 16" / 41cm
WEIGHT - 58lb / 28.6kg
Please note, if the colour you would like to purchase is currently sold out, we can order it especially for you. Please email us at info@lesserreslegault.ca and we would be happy to order the colour(s) you need.