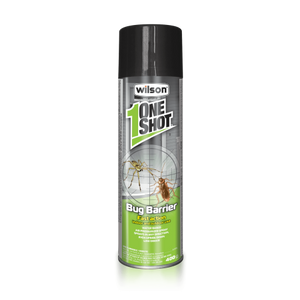 Wilson ONE SHOT® BUG BARRIER
Format: 425G (Ready to use)
How to use:
Apply directly to pests if possible. Hold container in any position while spraying, even upside down. Use for spot, crack or crevice application. Do not use as a space spray or broadcast application. .
Where to use:
Spray infested areas, pet beds, resting quarters, nearby cracks and crevices, along and behind baseboards,moldings, window and doorframes, surfaces of screens, doors, window frames, foundations, eave troughs, under eaves, patios, light fixtures and other places where insects may congregate or enter the structure.
Effective against:
Ants, cockroaches, crickets, earwigs, firebrats, silverfish, sowbugs, spiders, red flour beetles, rice weevils, fleas, brown dog ticks and bed bugs.
Ready to use